Cancel all the additional reservations.

Make a reservation directly and get yourself a 10% discount on the regular price.
"Villa Ivana" is situated in Zadar, in the tourist area named Puntamika. The Villa is placed near the very seashore, where is also to be found a large beach.
It is suitable for guests looking for a quiet and relaxing break from everyday fast lifestyle, but at the same time fits and guests who want to enjoy a walk around town, shopping or nightlife in the city and surrounding areas, because all these facilities easily and quickly accessible.
Click here or in the menu on Zadar to get more information about Zadar and its surroundings...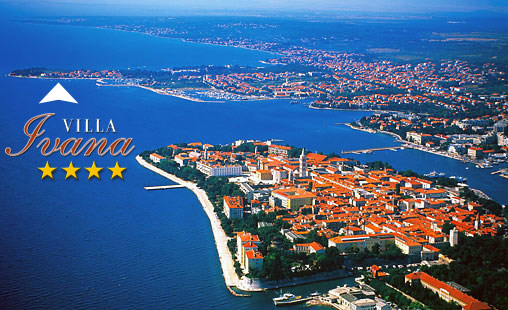 "Villa Ivana" disposes of accommodation capacity consisting of 4 studio-suites, 2 rooms and 1 suite with a bedroom, and therefore covers the capacity up to 20 persons.
Beside above-mentioned, the villa's offer also includes the reception, terrace with a panoramic view, spacious garden, and the hall for breakfast-service (included in the price of staying for the night).
For detailed information click here or in the menu on the accommodation offer.